On Thursday, April 20th, the Baton Rouge Symphony League hosted their Annual Mad Hatters Luncheon at the Crowne Plaza Hotel. Chaired by Lexy Freeman and Co-Chair Tessa Mahler, this year's theme was "Made in ManHATtan" and the ballroom was transformed to bring the streets of New York City right here to Baton Rouge.
The morning kicked off with a special VIP Party, thanking all of the many sponsors who made the day possible: AGC Sales & Service Representative; Baton Rouge Parents Magazine/Family Resource Group, Inc.; BRProud/WVLA/Fox 44; Capitol Wellness Solutions; Coleman Consulting Group; Elements Art/Interiors/Design; H&O Grounds; inRegister; Investar Bank; Jackson Vance Morrison, Kirkpatrick Group, LAMAR Advertising Company; Lee Michaels Fine Jewelry, Otey White & Associates; Raffaele Furs, Sigma Engineers & Constructors and TFG Billing.
Luncheon attendants came donned in NYC themed hats and accessories, from the Big Apple to the NY Mets, Taxi Cab Drivers to Tiffany & Co. They enjoyed specialty themed cocktails while browsing the many
silent auction items donated by local businesses, and had a chance to enter a drawing for a Raffaele Fur by purchasing a glass of champagne that was served in a custom painted keepsake champagne flute.
Cindy Teague was the lucky winner of the Mad Hatters Sweepstakes and went home with a gorgeous sapphire and diamond bracelet, donated by Lee Michaels Fine Jewelry.
New York Fashion trends were featured in a fashion show, presented by Raffaele Furs, Lukka Boutique & Love All and emcee'd by Melanie Hebert and the Mad Hatter himself, Leonard Augustus.
The following awards were voted on by Hat Judges Leonard Augustus, Melanie Hebert, Monique Delahoussaye Breaux & Donna Torres: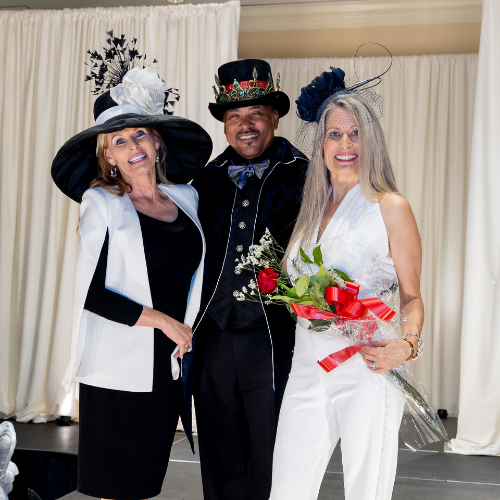 BIG APPLE (Best Overall), SKYSCRAPER (Tallest Hat), THE MANHATTAN (Best Manhattan Theme), THE CENTRAL PARK (Prettiest Floral Hat), THE FIFTH AVENUE (Best Designed Hat), TOP OF THE ROCK (Best Overall Group Hat & Ensemble), LADIES OF LIBERTY (Best Small Group Under 5)
Alice Kronenberger was the Honorary Chair of the event. Alice has been an integral part of the Baton Rouge Symphony League for nearly 40 years.
For more information on Baton Rouge Symphony League, please visit https://brsymphonyleague.org/ or follow them on Facebook (Baton Rouge Symphony League) and Instagram (@batonrougesymphonyleague).